For Trainees requiring a copy of 'Essential Resources for Mindfulness Teachers'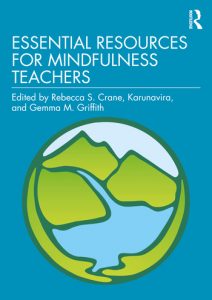 As this text will be utilised throughout the training programme delivered in collaboration with the Mindfulness Centre at Bangor University, we are delighted to share a 20% discount code for the 'Essential Resources for Mindfulness Teachers' book via Routledge online: enter the code EFL03 at checkout.*
*NB: the discount will not apply during the Routledge sales or while the book is already discounted. We kindly ask that you only use this discount code after registering on one of our training events.
View the full discount details here: Essential Resources for Mindfulness Teachers discount flyer
As a charity we want to provide opportunities for everyone to access high-quality, mindfulness-based training, supervision, and retreats; donating today will support someone else to have these same opportunities. Please consider donating the 20% discount (£4) to the Mindfulness Network if you are in a position to do so, which will help to fund our bursaries and enable us to remove financial barriers for those wishing to use our charity's services.