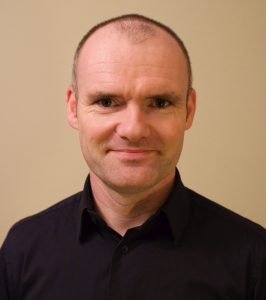 David Shannon currently works full-time as a senior psychologist in radiation-oncology in Dublin, Ireland. David has pursued an interest in both the practice of mindfulness and its application at end-of-life for over twenty years. After a number of years teaching mindfulness in a community cancer support setting, he joined the training and management team at the Centre for Mindfulness Research and Practice (CMRP) at Bangor University in 2012, and led the Master's programme there until 2015. He continues to train and supervise others to teach mindfulness on behalf of CMRP/Mindfulness Network. While working as a senior psychologist in hospice/Palliative Care (2015-2022), he completed a doctoral thesis on 'exploring the role of mindfulness with patients receiving palliative care'.
---
Qualifications
MSc in Counselling Psychology, Trinity College Dublin
MSc in Consciousness & Transpersonal Psychology, Liverpool John Moore's University
BA in Psychology, University College Dublin
---
Teaching-Training Specialisms
One-to-one mindfulness teaching in palliative care
MBCT teaching in palliative care
MBCT teaching for cancer
MBSR teaching for general populations & health professionals
MBSR/MBCT teacher training
---
Personal Practice
Although I had been engaged in Buddhist meditation practice since 1999, it was not until my initial MBCT training in 2006 that I began to really understand the process I had been immersed in for so many years.  Although I have maintained a deep interest in Buddhism, my personal practice now follows the main practices as taught within the programmes of MBSR and MBCT. In what feels like coming full circle to my earlier Buddhist practice, this is more and more infused with compassion as my understanding deepens. This is supported by regular supervision and retreat time.
---
Research Activities and Interests
I am currently at an early stage in researching mindfulness in palliative care.
---
Publications
Shannon, D. (2007). Hermeneutic single-case efficacy design (HSCED): evaluating psychotherapeutic effectiveness in a cancer support setting.  Unpublished MSc thesis. Trinity College, Dublin.
Shannon, D.  (2003). On the role of death in life: the application of terror management theory to palliative care nurses. Unpublished MSc thesis. Liverpool John Moore's University.